Bourton-on-the-Water Parish Council
Burials & Allotments
Committee Members
Cllr John Hovard (Chair)
Cllr Jim Cowen
Cllr Lynda Hicks
Cllr Bill Wragge
The Burials and Allotments Committee deals with the administration of the cemetery, gardens of remembrance and issues arising from the transfer of maintenance responsibility for St Lawrence's closed churchyard. It also addresses matters relating to the administration of the local allotment sites, currently situated at Cemetery Lane, Springvale and Piece Hedge.
Burials

The Committee installed signage at the cemetery entrance in 2015. The Commonwealth War Graves Commission confirmed there are two war graves in Bourton Cemetery, and the Commission affixed a sign to the entrance in 2013 advising visitors of these graves, which are identifiable by the standard war grave design.

Jubilee Garden of Remembrance

The existing Garden of Remembrance is now be closed for further interments, other than for additional interments in existing plots, but this area will continue to be maintained in future years, as it is today.

Benches have been installed for visitors to the new Jubilee Garden, and these are also available for adoption by residents.

Regulations have been established to facilitate the administration of the Cemetery and Gardens of Remembrance. These mainly reflect accepted good practice but do include one or two provisions of which residents should be aware.

The Council has also now provided an area for the scattering of Ashes which is a facility which hasn't previously been available for residents. The new Ashes Garden will allow residents to scatter ashes in a flower bed provided for this purpose and, if they wish, to also purchase a memorial plaque which will be affixed to the surrounding kerb, or reserve a space on the kerb for future years. However, residents must apply to scatter ashes in advance, and we'd ask everyone to respect this requirement.
The Council recently took a decision to increase burial and memorial fees for the forthcoming year, albeit these fees are still below those charged by many neighbouring towns and parishes. The Council previously decided to increase fees over a time as maintenance of this space is still subsidised by the Council to a considerable degree. The new charges will apply from 1st January 2017.
Please click on the attachments below for details of the new regulations, which are also available in booklet form from the Council Office, and the fees for 2017.
George Moore Memorial
The Council instructed the refurbishment of George Moore's memorial after receiving family pledges. These works were completed in April 2017 and the photograph below shows what a significant improvement this has made.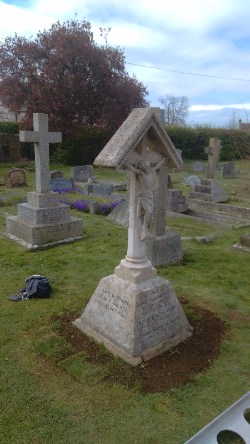 Allotments

All plots at the three sites are currently let and there is short Waiting List. However, there are usually some vacancies created throughout the season so if residents wish to register their interest, please contact the Clerk.

Allotment Rents and Rules

Rents and Rules have been reviewed for 2017, and rents have been slightly increased to £18 per half plot in order to achieve cost-neutral maintenance of these areas.