Friday 3rd June
Open Gardens
Arrangements are close to being finalised and there will now be around 20 local gardens and other floral displays that will be open on Friday 3rd June between 10.00 and 17.00pm. It's hoped that many residents will support this event and take the opportunity to have a peek inside the gardens that are taking part, enjoy the displays and maybe pick up a few gardening tips…
Entry will be by ticket only, at £3 for the over 16s (under 16s go free) to help cover programme printing costs.
Tickets can be bought from the Information Kiosk on the Village Green which will be open between 10.00 and 16.00 on both Thursday and Friday. There will be a competition for the younger ones 'Hunt the Gnomes' to keep them occupied.
A programme will be produced to accompany each ticket, and this will include a map of the participating gardens as well as information about the children's competition.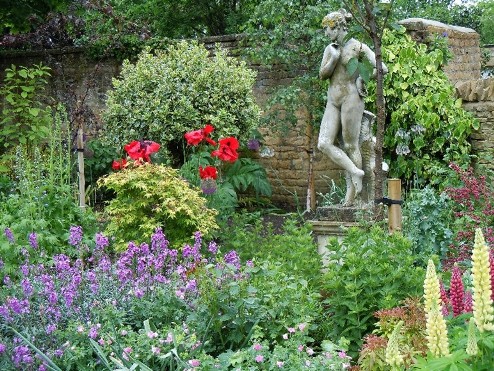 Picnic in the Park
The Beatles are coming to Bourton!
"Beatles for Sale" is one of the UK's premier Beatles tribute bands and we've been lucky enough for them to have a space in their diary to come and play in Bourton on the 3rd June. The band are really excited about performing at our event and we're hoping this will be a brilliant family night out for residents of all ages.
The concert will be held on the Cotswold School playing field, and residents are invited to bring along their own refreshments/picnics as there will be no food sales on sale on-site other than the following: Picnic Boxes will be sold by The Den, located in the High St, and picnic boxes must be pre-ordered from them, for collection on the day from the designated collection point on the field. Ice-creams will also be available on the day from the local ice-cream seller who will also be located on the field.
There'll be space for a limited number of gazebos that can be sited along one side of the field, but spectators can also bring garden chairs, picnic blankets, anything really as long as it's reasonable. Please note that barbeques and fires will NOT be permitted.
Gates will open at 5pm, with Paige & The Red Shift performing at 6pm, followed by 2 sets from Beatles for Sale starting at about 7.15. All set timings are approximate at this stage!
Entry is by ticket only and these are now available on-line, from Eventbrite using the QR code on the above poster, or by contacting them direct on:
www.eventbrite.co.uk/e/bourton-platinum-jubilee-picnic-in-the-park-tickets-295150461977.
Residents can also purchase paper tickets if they prefer – these are now available from the Visitor Information Centre in Victoria Street during their usual opening hours.
Pricing is as follows:
Over 16s: £12
11-16s: £5
Under 11s: Free
All under 16s must be accompanied by an adult, and professional stewards have been contracted to provide security for the event, to prevent alcohol being brought onto the site by underage drinkers and to ensure the concert takes place in a safe environment for all. There will be a block of portable toilets located on the field as well as a manned first aid point.
Numbers will be limited, so buy early to avoid disappointment.